World Thinking Day 2021
***World Thinking Day 2021 Activity Series***
Welcome to the World Thinking Day 2021 activity pack: Stand Together for Peace. We hope you will use this pack to celebrate World Thinking Day and stand together with over ten million Girl Guides and Girl Scouts around the world to call for and create peace; in our lives and in the world.
Peacebuilding is at the heart of Girl Guiding and Girl Scouting and is as vital and relevant today as for the last 100 years. By completing the steps in this activity pack, Girl Guides will: Stand Strong, Stand Up and Stand Together for peacebuilding.
What is Peacebuilding?
Peace is…
Peace is not just the absence of war, it means dignity, safety, and well-being for all.
How peace is defined is different for everyone and it can range from being happy in ourselves and seeing the smiling faces of our loved ones, to conflict resolution within a community and ending violence and harmful practices around the world.
Peacebuilding is…
Peacebuilding is about dealing with the reasons why people fight and supporting people to manage their differences and conflicts in a non-violent way. It is very important to develop positive, personal and group relationships across different races, beliefs, cultures and classes. Understanding why people are different and why this is valuable and important helps us all to live in harmony.
Earning your World Thinking Day 2021 Badge: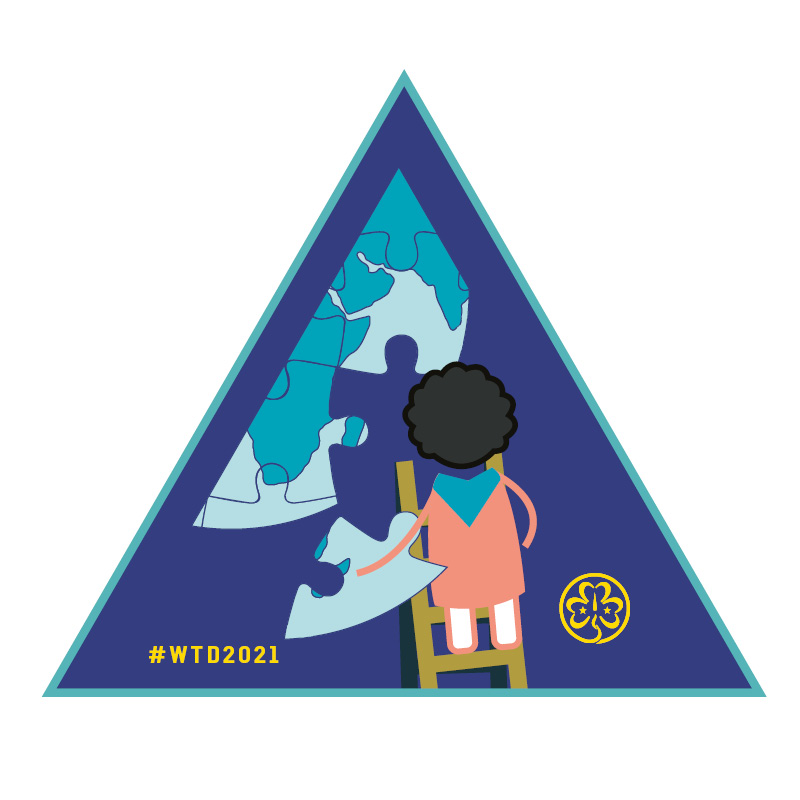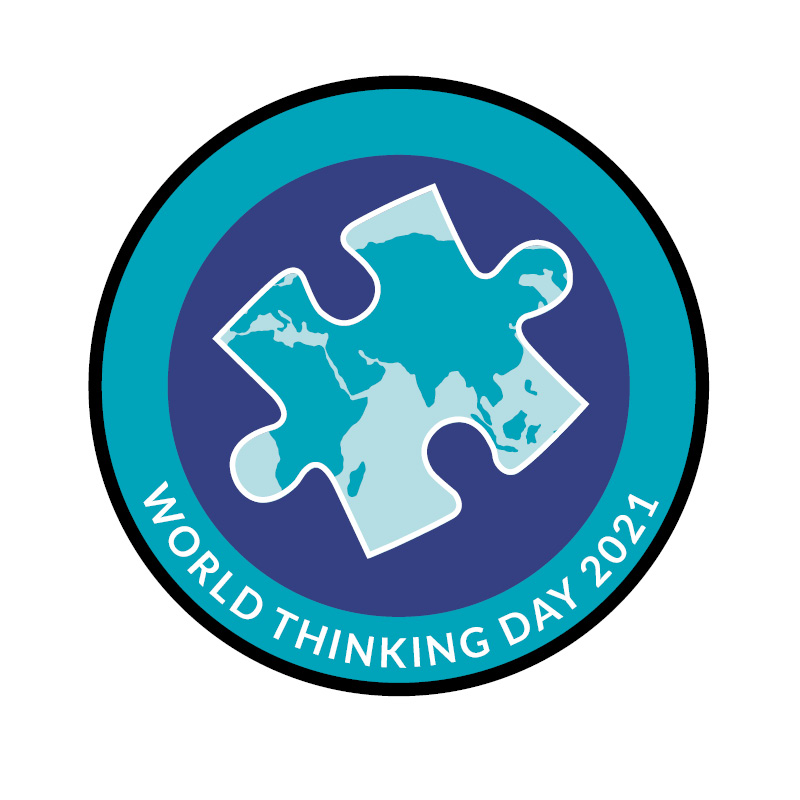 Step 1:
Create a 'brave space' for your group so that they are ready to fully participate
Step 2:
Complete 1 activity from each of the 3 sections:
Stand Strong
Stand Up
Stand Together
Step 3:
Act for peace, complete the closing activity and renew your Girl Guide promise
Members can wear the 'World Thinking Day 2021' badge or pin upon completion of the World Thinking Day 2021 Activity Pack challenges.
| | | |
| --- | --- | --- |
| Section | Eligible to wear on the uniform | Where to wear |
| Brownies and Guides | Cloth badge | On the front of the sash or on either sleeve of the uniform |
| Rangers、Guiders and Adult Members | Pin | On the right chest of the uniform |
The badge could be worn until 31st August 2022.
Limited quanities of World Thinking Day 2020 Cloth Badges and Metal Pins are available now at the Guide Shop! While stock lasts!
Download World Thinking Day 2021 'Stand Together for Peace' activity pack
 Download the activity pack today
Activity resource 'Inspiring Women Cards' (For activity pack p.40 – Women Peacebuilders)

Download the 'Inspiring Women Cards' here
Girl Guides will follow a journey through our World Thinking Day themes from 2019 to 2021.
2019: Leadership
Guides and Girl Scouts are leaders. In 2019, learn the different ways to be a leader and develop the power to bring the change you want to see in the world.
2020: Diversity, Equity and Inclusion
It's important that Guiding and Scouting is a safe and inclusive space for all to take part. In 2020, understand the concepts of diversity, equity and inclusion, and what that means for your community.
2021: Peacebuilding
Use the knowledge and experiences you've gained in World Thinking Day 2019 and 2020 activities to take action and change your world. Choose to build peace: be a leader and create environments that include everyone.
Enquiry
2359 6816 (Educational Programme Team)
World Thinking Day 2021 Activity Series
| | | | |
| --- | --- | --- | --- |
| Activity Name | Date | Time | Details |
| Post the Peace | January to April 2021 | - | Click HERE |
| In PEACE We Share - Stand Strong for Peace | 06 February 2021 (Sat) | 2:00pm-3:30pm | Click HERE |
| In PEACE We Share - Stand Together as HK Peacebuilders | 27 March 2021 (Sat) | 2:00pm-3:30pm | Click HERE |
| WTD Global Festival | 20 February 2021 (Sat) | 7:30pm-9:30pm | Click HERE |
Enquiry
2359 6816 (Educational Programme Team)
Last Update Date: 2021-03-08